Current events and formats
Never miss a thing: Here you will find an overview of current events and formats at a glance.
📅 Thursday, 11/10/22, 2 - 4 p.m., virtual | In this open discussion, Stefan Soutschek reports on how this question is addressed in practical application - IoT experiences exclusively from Schaeffler Technologies! Sebastian Held sits on the supplier side of the digital solution and Ing. Madeleine Mickeleit is very familiar with both sides due to her daily IoT business. An exciting exchange - register now!
Wednesday, 11/10/22, 15:30 - 3.30 p.m. - 4 p.m., SPS 2022 Nuremberg, VDMA/ZVEI Forum, Hall 3, Booth 451 | "Digital Twin Volkswagen: Standardized Data Models Create Transparency & Energy Monitoring" - our SPS Podcast with Meik Billmann (Industrial Digital Twin Association e. V.), Dr. Dirk Thieme (Volkswagen Sachsen GmbH) and of course Ing. Madeleine Mickeleit! Come by! >>>
📅Tuesday, 11/08/2022, from 4 p.m., Hall 4/310, at igus | We are organising an IoT Use Case network meeting at SPS this year, for which you can register in advance now. We'll also be recording a podcast episode LIVE again. More information >>>
Tuesday, 13 September 2022, 5 p.m., IoT Brandhouse Heising & Adelmann, Cologne | We are live at DIGITAL X recording a podcast episode with Deutsche Telekom IoT and DeDeNet. We talk about route optimisation and fleet management.
📅 29. + June 30, 2022, Messehalle Hamburg-Schnelsen | As an IoT competence partner of All About Automation, we will be there in Hamburg with our partners and show IoT in practice! Sign up now and stop by. At our booth we answer all questions in the direction of IoT and show projects and application examples of our partners!
📅 03. JUNE 2022 we recorded a podcast episode live on site at the Hannover Messe! Controller in the cloud - is it still the future or already reality? That's what we're talking about today in this special episode, together with Europe's most important glass manufacturer Saint-Gobain Glass, the Fraunhofer Institute for Production Technology and Siemens AG.
📅 May 12, 2022 | 17:00 online in the "Metaverse" | Is "Gather.Town" known as a tool? No - then it's high time, because that's probably as close as you can get to a live event. Here is the warm invitation to our "Open House" of our Community Event.
📅 From May 30 to June 2, 2022, the Hannover Messe will take place and we will be there! We show the use cases of our partners live. A landing page will soon follow with an overview of which hall and booth our partners will be in and which use cases they will be presenting.
📅 March 31, 2022 | 2:00 pm Madeleine talks with Jürgen Grabenhofer (VP, Siemens Advanta Conuslting) and Gopa Balakrishnan (Head of Digital Business & Services Portfolio Management USA, Siemens LDA) about the key advantage of Industrial IoT and how to get started with digital transformation.
📅 March 8, 2022 | On May 12, 2022 at 5:00 pm we will meet with a new format and all IoT enthusiasts in our interactive 2D meeting world in a new gaming atmosphere and targeted speed dating. Apply now - places are limited! Participation is free of charge.
📅 March 21, 2022 | The Future of Manufacturing Community is now part of IoT Use. We are very happy about the common exchange and the growth of members! Together, we shape the future of the industry and leverage the added value.
📅 March 2, 2022 | Mechanical and plant engineering should know these top 3 requirements in order to make IoT data usable. Dr. Jens Ottnad from TRUMPF Machine Tools is using new technologies to develop the autonomous machine of the future.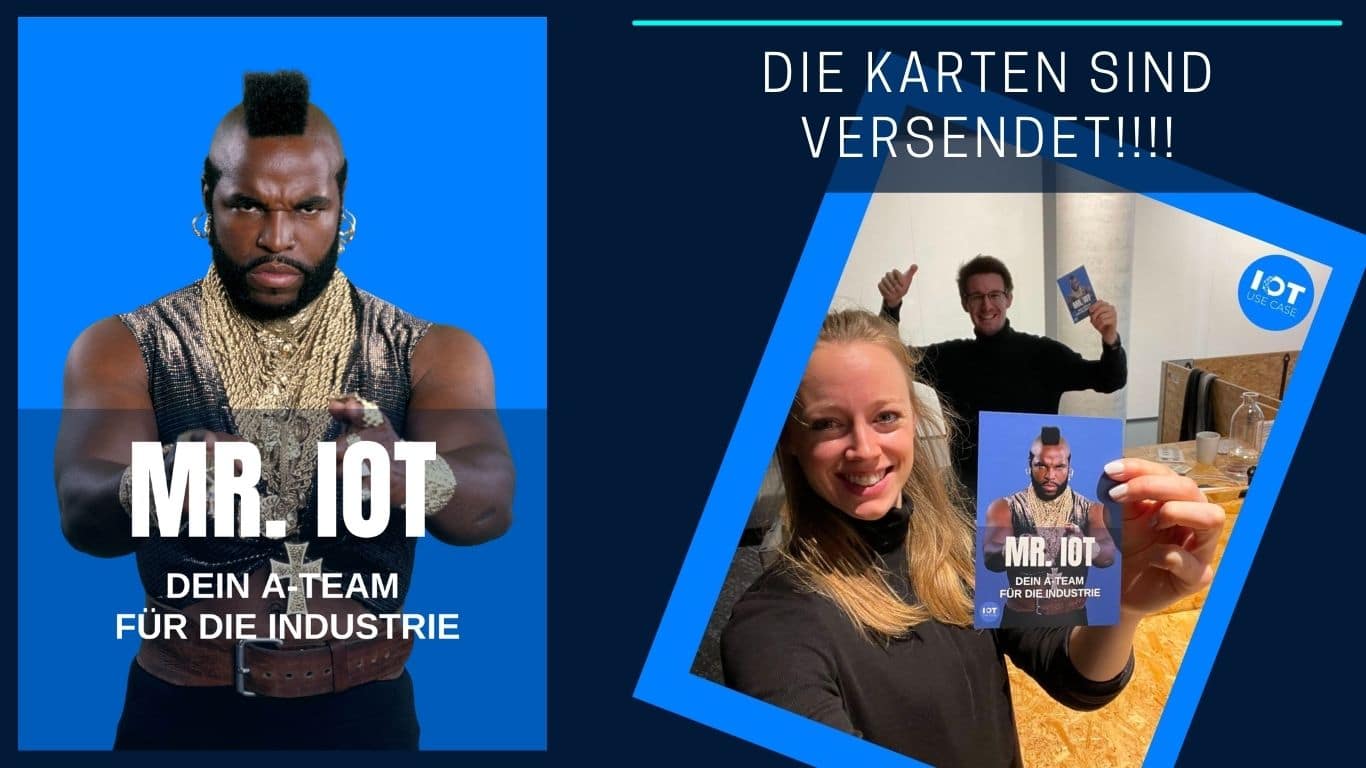 📅 February 8, 2022 | As a thank you for the IoT partnership and the great cooperation in 2021, we sent out the Mr. IoT cards. It's nice to see where Mr. IoT is watching at work everywhere ... even in the control cabinet 👀
📅 February 16, 2022 | What a development! A handful of innovative partners every month! We are excited to grow in this way and to convey and demonstrate the added values of IoT and IIoT on our channels! 350+ Use Cases - 15,000+ users in our community and 65+ industry partners! BÄMMM!
Get our IoT Use Case Update now
Get the free monthly update on exciting use cases, latest podcast episodes and news from our IoT community.