EHA uses smart solutions from meteocontrol and INSYS icom for the REWE Group
Rising energy prices and the transition to renewable energies pose significant challenges that require urgent action for companies. For buildings with large roof areas, as often found in the retail sector with numerous branch locations, energy production with photovoltaic systems is profitable. REWE Group takes a pioneering role in the expansion of roofs with PV systems. One Lighthouse project is the new REWE Nord central location in Henstedt-Ulzburg in Schleswig-Holstein, Germany. With 3240 modules and a peak output of 1,377 kWp, the installation will cover part of the administrative and logistic center´s electricity consumption. EHA Energie-Handels-Gesellschaft, a subsidiary and central energy service provider of REWE Group, is responsible for the technical planning and implementation as well as the operation. For flexible control and monitoring of the photovoltaic systems, a product from the technology-independent provider meteocontrol is used. Networking with remote access is carried out with the industrial product portfolio of the Regensburg-based manufacturer INSYS icom.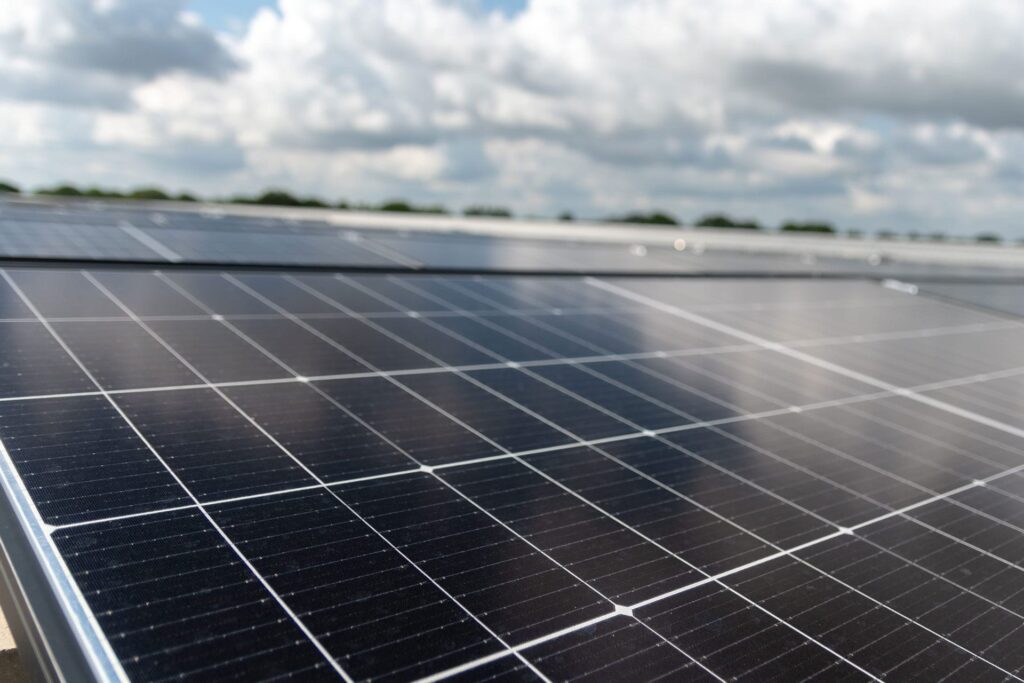 Image source: EHA, Andrei Sokolowski
Management of photovoltaic systems with meteocontrol's blue'Log® XC
In the case of the solar system located at REWE's logistics site in Henstedt-Ulzburg, the Zero Feed-In solution based on meteocontrol's blue'Log® XC is utilized. This ensures that the generated electricity is not fed into the public grid but is instead used 100 percent directly on-site.
Through an open Modbus TCP interface of the blue'Log® XC, real-time process data is exchanged with the grid operator. Additionally, the IT infrastructure related to data encryption and user management can be automated and conveniently controlled. "We are capable of meeting the required high security standards," says Georg Thoma, Chief Information Security Officer of meteocontrol. "In close coordination with our partners, crucial developments have taken place, enabling meteocontrol to offer specially tailored solutions today."
meteocontrol has previously collaborated with EHA. The standardization of all projects allowed for smooth and rapid implementation. Through parameterization, grid connection rules can be efficiently implemented via a graphical user interface, eliminating the need for programming effort. "What customers like EHA appreciate about our solutions is the independence from various providers and manufacturers," explains Rouven Lenhart, Executive Vice President of meteocontrol. "Standardization of their projects is important to our customers. To achieve this, we offer solutions and support them in scaling their business models."
Scalable networking and management with the INSYS icom portfolio
The solar project had several specific requirements: all PV production technology needed to be seamlessly integrable into control cabinets with DIN rails. Moreover, compliance with current IT security standards was crucial for critical infrastructures. Given its scale, the project needed centralized management, with security and firmware updates applied automatically.
To meet these challenges, EHA, following meteocontrol's recommendation, utilized products from INSYS icom. They chose the MRO-L200 router model because it could be directly integrated into the control cabinet and could connect various devices with its five Ethernet ports. The robust industrial routers from INSYS icom are especially suitable for use in extended temperature ranges, such as on rooftops. These devices adhere to high IT security standards and are KRITIS-compliant, providing the possibility of setting up multiple VPN tunnels and generating subnets. Secure networking, monitoring, and remote maintenance of the photovoltaic systems are ensured due to the high quality, stability, and continuous accessibility provided by highly available connections.
EHA was convinced by the company's focus on IT security, demonstrated through penetration tests, regular updates, certificates, and a comprehensive catalog of measures. With the icom Router Management, the devices can be centrally managed, configurations can be changed, and firmware updates can be rolled out in a controlled manner. Additionally, there is the option to expand the product portfolio through the container environment.
The overall package met EHA's high expectations. "With the central control capabilities and extensive functionality of INSYS icom's routers, we retain the agility needed for product redesign and innovation in the coming years. These routers meet all high-security requirements. With INSYS icom, we have found a partner that aligns with our vision for the future," says Alexander Bauer, Information Security Officer at EHA.
New standardised solar system concept
EHA has developed a standardized photovoltaic system concept for customers like the REWE Group. It serves as an intelligent solution for existing buildings and simplifies long-term operations. The modular, expandable, and scalable system with pre-assembled component blocks can be customized to meet the specific needs of any location. Additionally, EHA plans and coordinates the installation and ongoing maintenance of the solar installations and also takes care of the energy management. The successful implementation of the new photovoltaic system concept for the REWE Group highlights its exemplary nature for other companies with multiple locations.