Optimizing production processes is one of the core interests of every company. Thanks to the digital transformation and IoT, more information is available than ever before. The task is to evaluate the information, prioritize it, and take the right steps based on the insights gained. ThingWorx Digital Performance Management from PTC is a tool that opens up possible solutions. Microsoft Azure as a platform stands for maximum security, availability and flexibility.
The challenge: Identifying obstacles in the production process
Maintaining "business as usual" is by no means sufficient for manufacturing companies to remain successful in fast-moving times and in the face of high competitive pressure. The fact that digital transformation is becoming the benchmark of success for manufacturing companies is confirmed by most executives. It's just that the implementation of some processes that have been identified as necessary has been less advanced so far. Various obstacles stand in the way of success here and thus valuable production time is lost. Without reliable data management, much information is isolated, available with delays, or does not reveal the real causes of productivity losses. Key barriers include a lack of convergence between IT and OT data. A lot of time is invested in collecting data, often at the expense of the actual solution. In addition, established, in-house solutions often stand in the way of technological innovation. Without reliable data, it is hardly possible to advance sustainability along with high productivity.
On this basis, it is not possible to establish a closed problem-solving cycle. This supports the digital transformation in the best possible way. After the digitization of data and processes, transformation is the most comprehensive step to holistically change business processes and strategies. With a clear strategy and measurable goals, the full potential can be realized. By identifying the most pressing issues that impact operational and business goals, companies create a solid foundation for Digital Transformation success through this prioritization.
The solution: Mastering even disruptive developments with the right technology
PTC has developed a comprehensive portfolio of digital technologies that are offered as on-premise, hybrid or pure SaaS solutions. ThingWorx DPM is one of these SaaS solutions. It brings together data from disparate repositories to create a closed-loop problem-solving system that provides real-time insights into bottlenecks, their causes, and potential improvements. DPM takes production hours as the underlying metric from which all insights are derived.
The four key features that DPM uses to help optimize production are a dashboard with real-time data, detailed bottleneck analysis, an action tracker, and a scorecard. The process steps for this are: prioritize, analyze, improve and validate. DPM optimizes data access, points out particularly consequential problem areas in production and provides practice-relevant analyses. It also shows the biggest problems in production systems in real time or enables drill-down. This means that the parties involved can "zoom in" on the data from different source systems themselves to the desired level of detail and thus perform their own analyses.
DPM reveals new and existing capacity bottlenecks as well as possible free capacities, for example if a production facility in a corporate network is operating particularly efficiently and can absorb possible backlogs. The partnership with Microsoft Azure ensures the secure, enterprise-wide deployment of ThingWorx DPM's IoT solution. Flexibility and the scalability of the data are guaranteed.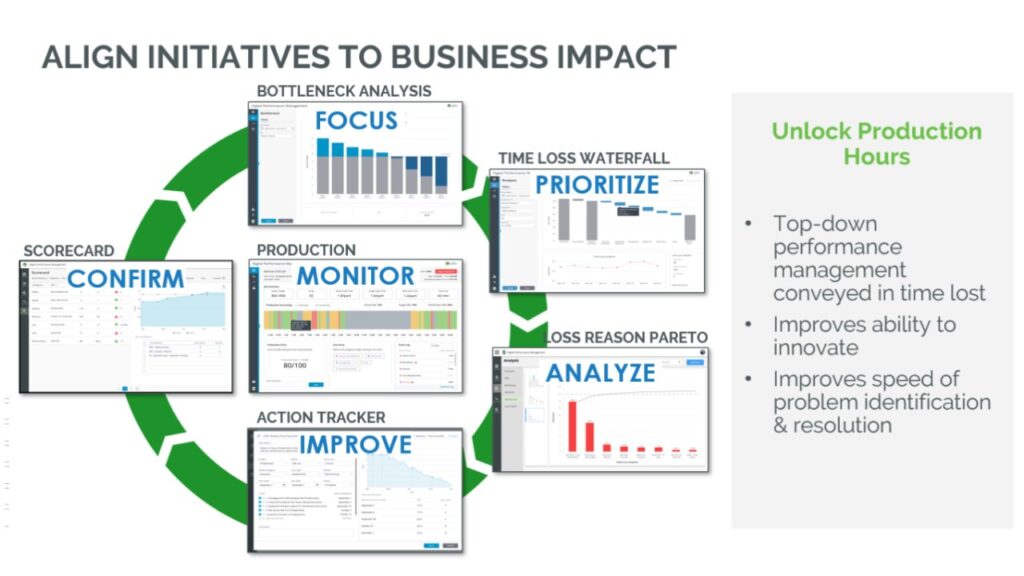 The result: Increased productivity and OEE
DPM provides valuable insights that directly improve the production process. By detecting labor or equipment bottlenecks, overall efficiency (OEE) can be increased by up to 20%. Smooth production processes improve throughput, and as a result, sales can increase by up to 30%. At the same time, more productive employees help reduce operating costs by up to 20%. In the service area, DPM can reduce changeover times by up to 70% and thus also make a significant contribution to optimization. With DPM, PTC and Microsoft Azure provide a comprehensive toolkit that supports manufacturing companies in their digital transformation and creates a secure and reliable data basis for all business processes.

Click here to find the app in the Microsoft Azure Marketplace: ThingWorx Digital Performance Management