"Let's think out of the Box"
Ing. Madeleine Mickeleit studied mechanical engineering, has her background in IoT business development and is an expert in IoT technologies, partners and solutions.
As managing director of the largest IoT community in the German-speaking region – IIoT Use Case GmbH – she raises business potential for industry and makes IoT applicable. The claim: "Less buzzwords – more practice!" It achieves this together with 65+ industry partners, 15,000+ users and the experience from 350+ use cases and IoT projects.
Ing. Madeleine Mickeleit
Managing Director | IIoT Use Case GmbH
"The IoT Community for Industry".
kontakt@iotusecase.com
+49 (0) 30 57714477
IIoT Use Case GmbH
c/o Factory Works GmbH
Rollbergstraße 28A
12053 Berlin
Germany
"We are pleased to announce Ing. Madeleine Mickeleit as one of our speakers at SIDRIVE IQ Xperience. Madeleine is CEO of the largest IoT community in the German-speaking market - IIoT Use Case GmbH with over 65 industry partners and over 15,000 users. In our event, Madeleine will give an insight on what pioneers are doing differently to be successful and share some use case examples with Juergen Grabenhofer (Vice President Siemens Advanta Consulting) and Gopa Balakrishnan Head - Digital Business & Services Portfolio Management (USA) at Siemens".
Presentation and work experience
"Industrial digitization as a day-to-day business" – Madeleine Mickeleit's professional development has taken her from an initially technical job description in automotive body development into the world of digitization following her dual studies in mechanical engineering. The drive and motivation came from the fascination to understand complex issues in depth in implemented Industry 4.0 projects and to bring together suitable stakeholders to a successful conclusion.
"Madeleine is passionate about her daily work, as she is about her personal and professional life. She loves to learn more about new vendors, technologies and solutions every day, thus constantly expanding her knowledge and communicating and explaining it in practice as an influencer. "Digitization means mindset" – Digitization requires courage to go new ways, an ecosystem mindset, openness to rethink established structures. In addition to the will to see digitization as an opportunity, a future-driven mindset is crucial for success. Madeleine's mission here is to use positive energy combined with tangible methodology to drive digitalization with her clients.
The focus of her daily work is on the Industrial Internet of Things. Madeleine Mickeleit has set this challenging key concept of Industry 4.0 as the focus of her career. Her career trajectory includes a successful sales role at Siemens MindSphere, career choice at Accenture as a digital consultant, activities as a Top tech Influencer on LinkedIn 2021 and in parallel since the beginning of this year now new – her role as founder of "IIoT Use Case" (iotusecase.com). "If not me – then I know someone" – The close networking, creativity, initiative and authenticity runs through her life and is now paying off. She knows how to engage CEOs , managing directors or department heads in a professional discussion and to place the corporate messages in Talks. So she is a successful network host, podcast host and business manager.
As founder and managing director of the IoT Community (IIoT Use Case GmbH), she brings years of industry experience from IoT projects. The company's own IoT network of users and implementation partners is constantly evolving here, and Madeleine is on hand to offer advice and guidance.
Madeleine Mickeleit is founder and host of the IoT Use Case Podcast. The aim is to talk about the Internet of Things in concrete terms and from a practical perspective. For this, it invites direct IoT users with their partners and talks about the projects from the community.
Background to the "IoT Use Case" IoT Community
Foundation of IIoT Use Case GmbH
Established companies and their product-driven departments often find it difficult to think outside the box in their ongoing core business. A new sales approach is required here, especially in the IIoT environment, in order to align the established hardware business with the disruption in existing market logics and the design of intelligent products and services. However, time and money are often lost in practice due to ignorance of existing solutions, difficulties in implementing new processes, or the lack of mindset.
From her role, Madeleine's IIoT use case format provides companies with the visibility they need in the marketplace for implemented solutions and projects. In doing so, both you and selected partners are on the road as IoT Influencers. The format includes the podcast, use case publishing, data-driven matchmaking, and digital marketing for the technical solutions from the network. A use case includes implemented solutions from vendors and users. Topics are e.g. networked production facilities, real-time communication between machines, digital platforms, ecosystems, 5G technology, artificial intelligence, but also topics related to people and culture. This format is unique in Germany.
Together with the team and the network, Madeleine Mickeleit strengthens and shares know-how for the Industrial Internet of Things in order to make potentials for the German and European industry transparent and applicable in practice. Decision-maker positions, specialist departments or digitization officers use the information for a possible purchase decision, the choice of a provider and stay "up-to-date" on new trends and solutions.
The team started at the end of 2019 – since then, "IoT Use Case" has been steadily developing the approaches successfully. They have 70+ industry partners, 2100+ listeners to the podcast (as of 2022, definition listeners), and 350+ use cases on the platform and in our database, as well as social selling posts with 14,200+ impressions. Day by day, the IoT partners and customers present the approaches, use cases and solutions from their IIoT portfolio. Customers learn more about existing IIoT technologies, solutions, vendors, users and products based on the use cases, as well as recommended practices, in the "IoT Use Case" format. In doing so, they use the information to make a potential purchase decision, choose a vendor or implementation partner, and stay up to date on new trends and solutions in the ecosystem.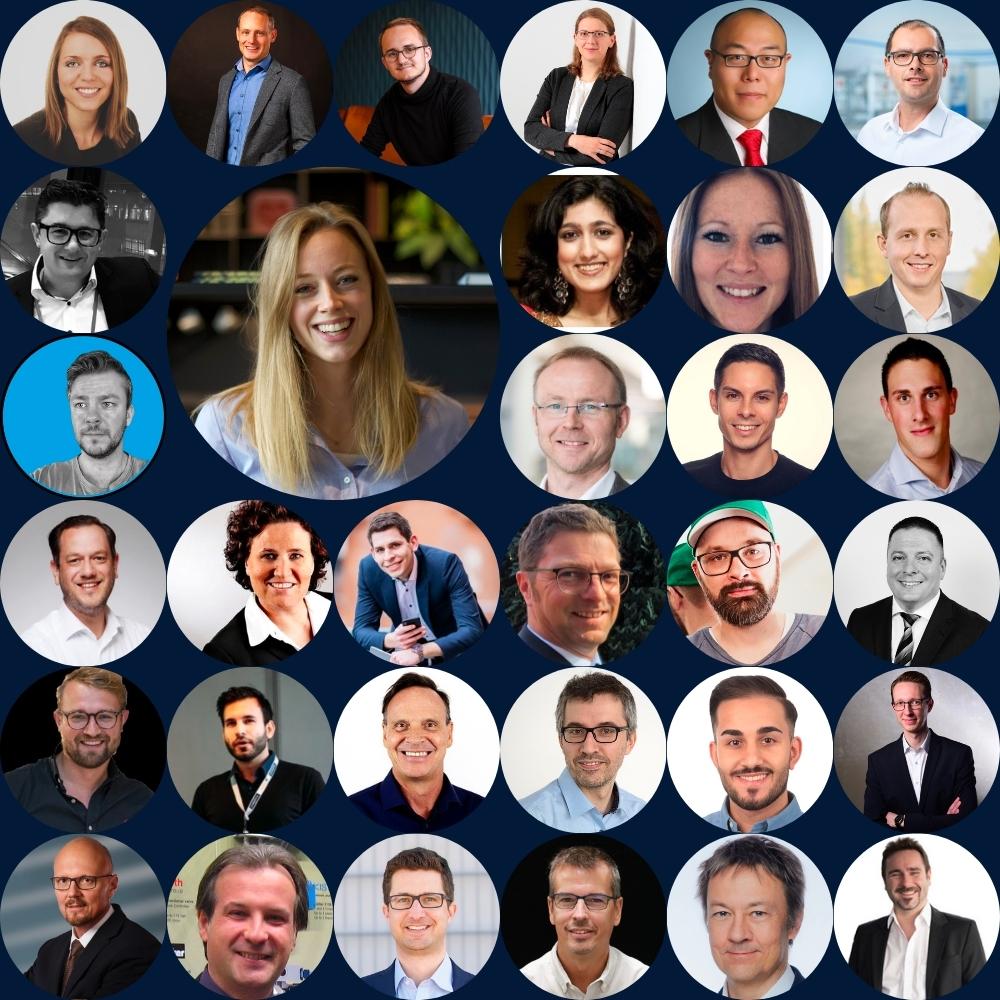 The industry needs a new mindset
"Just do it, keep focus and rethink" – Madeleine Mickeleit showed initiative and, in addition to working full-time, made the decision at the beginning of 2020 to follow her company vision based on the prevailing problems in the market. Initially, she started with the niche technology podcast "IIoT Use Case", which by active demand has evolved into a holistic format and today's network of 60+ well-known partners. In cooperative collaboration, it has absorbed the inquiries and impulses from the market and developed a business model that now bears the expenses and expansion possibilities of the entire project. The networking, iterative feedback culture and expertise are now paying off in real terms. It draws on its resources of innovation and change expertise, which is also its fundamental intrinsic motivation to drive this project forward.
In heterogeneous IT and OT (automation technology) world, she authentically inspires both business departments and business managers. It promotes learning curves of the multi-layered industrial IoT world to make added values of cloud applications tangible in German and European industry. Thus, Madeleine's open-minded character, the right mindset and a good dose of creativity broaden the range of perspectives in complex tasks. As an influencer, she enjoys a high level of acceptance among established medium-sized companies with whom she works, for example. events, writes articles for magazines, or engages in matchmaking for digitization projects. She brings her necessary expert knowledge around the IoT technology stack, the vendors and users in the market, and their sensitivities and objectives. In this way, it also helps medium-sized companies in particular to remain sustainably competitive and helps to shape the future of the companies.