The implementation of lean management methods has a high priority in day-to-day work, and at the same time, advancing digitization is creating new requirements. With the help of digital solutions, companies can get an additional boost in terms of increased efficiency and often manufacture more productively with the appropriate data evaluation.
One of the biggest obstacles is often the heterogeneity of the machine park, which is sometimes years old and has a large number of different controls, regulators and sensors that are often not suitable for digitization. As a result, there is no comprehensive overview of all influences on the production process, and optimization potential often remains undiscovered.
The challenge: Production losses due to unstable processes
mk Plast is a medium-sized company in the field of production and further processing of film products. For over 10 years, mk Plast has been digitally mapping its production using its own ERP system developed for film production.
The daily challenge for mk Plast, as for many other manufacturing companies, includes productivity losses due to unstable processes. mk Plast has a large variety of articles, which is accompanied by high demands on changeover work. Particularly affected are the complex blown film systems with multiple influencing factors that make robust operation difficult. Specifically, a monthly average production output of approximately 93.7% was achieved. On the product quality side, it was found that approx. 2t of film were discharged monthly for manual rechecking. Overall, this resulted in an initial situation that had to be improved by targeted measures.
In order to solve these problems and to optimize the processes involved, mk Plast turned to ENLYZE and commissioned an analysis and the possibilities for improvement that could be derived from it.
The solution: Data-driven production optimization
One of the first results of the analysis was an unexpectedly high variation in production output and quality due to external influences such as weather conditions, raw material use and plant experience. Both had to be improved by targeted measures and it quickly became apparent that the concrete approach to improvement should be the targeted selection of setting parameters for future production orders.
As a first step, the system parts to be measured were identified and equipped with appropriate connectors, which were promptly developed in-house as needed.
The digitization itself took place in the ENLYZE SPARK, an edge device, which was installed in the control cabinet of the production plant by the maintenance and integrator team. This took only about 2 hours during operation.
ENLYZE SPARK is connected via standard interfaces such as OPC-UA, Modbus, etc. to the plant peripherals, the machine control system and the ERP systems. This means that the production plant data, which is now available in digital form, is recorded, collected and processed and can then be evaluated. All relevant process parameters (from extruder, gravimetry and plant peripherals) can thus be monitored over the long term and documented with a high level of detail.
From the resulting production history, it was possible to derive those setting parameters for each manufactured article in the product portfolio that demonstrably led to stable and optimal production processes. From this, targeted recommendations for action are derived and all production processes are sustainably optimized.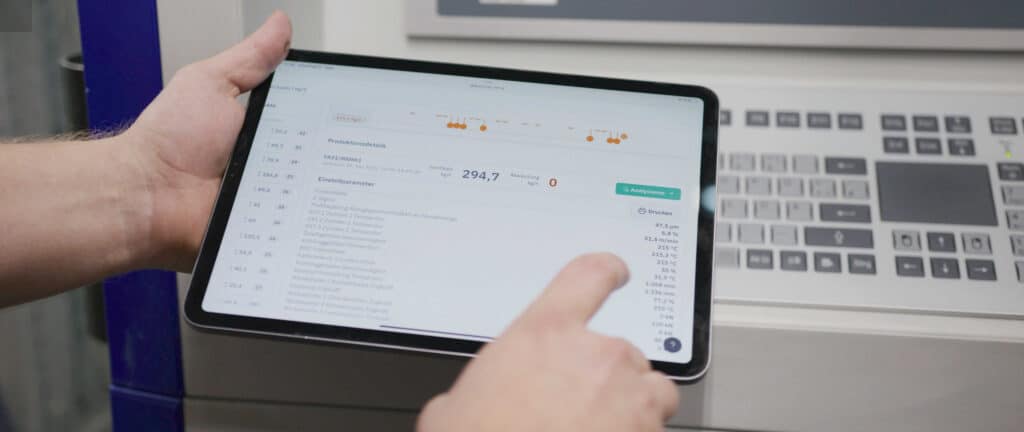 In this way, the collected process knowledge is available to all specialist employees of the company. Whereas previously the quality of the machine setup depended on the experience of the individual worker, ENLYZE now makes it possible to achieve consistently high production stability and productivity regardless of the level of knowledge of individual employees.
The result: Performance increase, quality improvement, and time saving
Since its introduction at the end of 2020, the methodology created by ENLYZE has been used at mk Plast to increase productivity in extrusion. All relevant employees have access to the evaluations and coordinate the machine setup among themselves.
With the help of the ENLYZE solution, mk Plast was able to achieve an overall increase in output of 4.8% in the introductory month of December compared to the output of the previous months. Transferred to an average month, this corresponds to a time saving of approx. 25 hours. Extrapolated to an entire production year, this results in a potential equivalent to half a month's production.
As far as product quality is concerned, interventions in production were required significantly less frequently, and the effort required for manual follow-up checks was more than halved. In the indirect area, the project significantly improved the ability to plan production. Differences between pre-calculation and post-calculation are smaller and working times are also saved.
The results impressively show the added value that can be achieved today through data-driven product optimization, even with heterogeneous machine fleets using current IoT technologies!